FROM US TO YOU
Capturing moods, inspiring moments.
Personal scents to reinvent your ever-changing aura.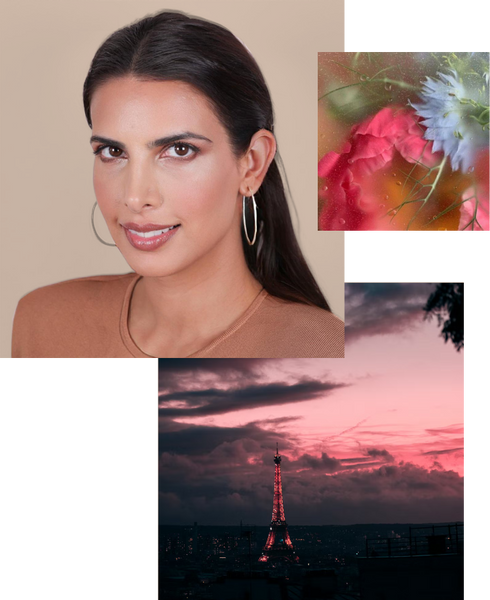 Scent with love from our founder:
Fragrance and I have been in an inconsistent, on-again-off-again relationship for as long as I can remember. From the duty-free perfume souvenirs my dad would haul back from his abroad business trips for my mother, to savoring my very first signature scent at the age of 16 to the very last spritz, fragrance has always been something laden with love. But, just as my fragrance fling was reaching its peak and I had graduated from a singular scent to a painstakingly crafted personal collection - an autoimmune disease threw a spanner in the works. Suddenly, I developed a serious amount of allergies as well as some severe reactions to my once-loved beauty stash and accumulated perfumes.
At this point, my only choice was to start from square one. When met with limited options on my healing journey, I made a choice to make my own space in the beauty world - co-founding the brand Wander Beauty to specialize in creating effortless, clean essentials that you can reach for every day, wherever you wander. I was enamored and inspired by the world of clean makeup and skincare, but my long-lost liaison with fragrance was still on my mind.
The catalyst for my head-over-heels free fall into the world of perfume was a 5 day trip to Paris and a subsequent meeting with a friend's mother who - to put it plainly - smelled absolutely amazing. And on the second day (and the third, fourth, fifth!) I found a heavenly smell radiating off of her over and over again in totally different ways. I realized that the enigmatic air about her that seemed to always effortlessly embody the current mood - a walk along the Seine, red wine-stained dinners, a cappuccino on the go - wasn't just captured in her revolving wardrobe or hairdos but it solely lied within her scent. Equipped with the right fragrance, she punctuated every occasion with her aura and tethered each moment to an unmistakable mood. And just like that, my idea of personal fragrance was revolutionized forever.
In my 5th venture as an entrepreneur, 5 SENS represents a well-rounded, truly sensory experience that goes beyond the boundaries of traditional perfume. This is fragrance reimagined, made to capture your ever-changing energy and inspire endless moments. In the end, I'm glad to say I can (finally) wake up and smell the roses (and the citrus' and gourmands and the musk).
The Essence Behind 5 SENS
At 5 SENS, we believe in a little serendipity. From the brand's conception to its coming-of-age, the number 5 has been omnipresent: 5 days spent inspired in Paris, the 5th company of our Founder's entrepreneur journey, and 5 core eau de perfumes that strive to ignite all 5 senses. What's more, the number 5 is tied to mercury - representing spiritual growth, self-confidence, and the senses. Here's to a brand founded on love, trust, and some magic.